Carving on the Edge celebrates a rich and colourful heritage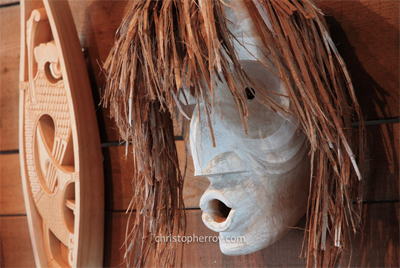 Traditional aboriginal art is the hallmark of the festival. 
Photos provided by Chris Pherro
MATT MOSTELLER
TOFINO — The wild West Coast of Vancouver Island has plenty of traditions that run as deep as the ocean: think a stickered-up VW bus, loaded up with surf boards and Jack Johnson tunes going as the surf reports roll in. Carving the blue ignites excitement and inspires plenty of shared high-fives. But there's another tradition with even deeper roots on the coast: carving wood.
Deeply embedded in the towering lined forest path, is a past so deeply rooted in this place. There are stories that are shared and passed through generations with the intricate handiwork etched and dug from grand trees that towered above the land. The spirits of frogs, wolves, eagles, bears and elders can grace the creations as they take on a new life.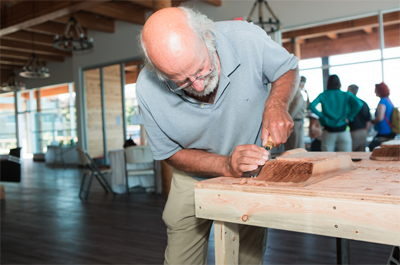 A student learns the art of carving my legendary masters.
Photo by Christopher Roy
This is also the place to carve out the idyllic summer experience.
Tofino's Carving on the Edge Festival showcases traditional and contemporary woodcarving during the annual event. 
With his wrinkled and worn hands, guide Nuu-chah-nulth artist, Gordon Dick, is the epitome of a master carver. He create incredible works of art with each chip or cut and blade work. From totem poles to masks, what becomes of his wooden canvas is something to behold. 
Be sure not to miss the highlight of this event, featuring Dick live, as he carves a large cedar panel throughout the festival.
"Gordon's design will speak to the future of the oceans, and our responsibility to ensure their health for generations" says Norma Dryden, event treasurer. "Visitors come to watch, learn, collect, explore and to take part in amazing free carver workshops put on by these incredible artists," she says.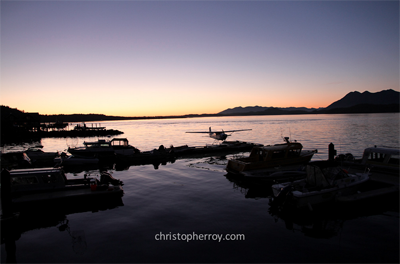 It's hard to beat the beauty of a Tofino sunset.
Not only that, it's also a way of preserving a deep heritage, says Dick.
"Carving on the Edge Festival is important as the art gives opportunity to share family teaching, showcase family values and it is vital for all to be respectful to nature."
"More people are moving away from a connection with nature and this festival gives another opportunity for us to share how everything we do can impact nature and we need to take better care of mother earth," says Dick. 
Carving into the wild blue
While you're in Tofino, be sure to catch a wave or five. Make it easy on yourself and just stay on the beach, perhaps at Pacific Sands Beach Resort or Long Beach Lodge Resort, both located on Cox Bay Beach, just two places visitors can learn or hone their surfing skills. 

Cross into the wild on a coastal road trip that includes Tofino and other destinations. Credit: Destination BC/Hubart Kang
There's plenty of blissful camping here, too. Check out one of the many places offered for an incredible stay under the stars in Pacific Rim National Park.
More info
Getting there: Fly then drive. Direct flights to Comox Valley or Victoria via Edmonton and Calgary on Air Canada, WestJet are available daily. Rent a car, then drive across the island.
Thinking of checking out the Carving on the Edge Festival this summer? Share this page with your friends.