Oceanside party celebrates music, art and culture for good cause

Get eady for an amazing west coast festival filled with music and scenic surroundings.
Photo provided by the Otalith Festival
MATT MOSTELLER
TOFINO — A thick, cloying mist envelops the tall green forest sentinels guarding this wild coastline as I make my way along the trail. I'm transfixed in the magical vibe of this place and feel a great sense of peace. Every time I come to Pacific Rim National Park I feel alive, refreshed and ready for anything.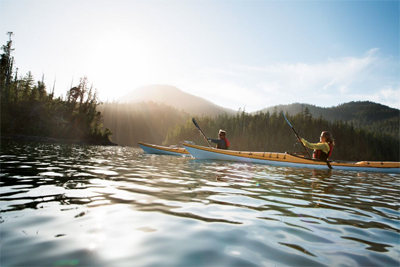 Kayaking on the west coast is divine.
Photo by Jeremy Koreski
This special place draws me back again and again, a wondrous ocean park surrounded by towering cedars and wildlife. Pacific Rim National Park sits smack dab in the middle of two towns, Tofino and Ucluelet, each having its own special sauce.
Add to this already near-perfect region that inspires limitless outdoor adventure and then cap that off with a must-do, off-beat music festival. Now, you've really got no excuse but to be here.
That festival is called the Otalith Festival held Aug. 21-22, featuring 30 musical acts. And it grooves to its own special beat, so be prepared to clap your hands, dance until the wee hours and feel good knowing you'll be supporting the fundraising efforts for the Ucluelet Aquarium. 
"A good-time for a good cause," is how Laura Griffith-Cochrane, one of the festival organizers, describes Otalith.  "It is all about the community — a party on the coast for the coast."
All you can do once you're here is slow way down and get into the spirit with bands such as the politically charged hip-hop artists, The Coup, and the sure-to-get-you-swinging Jon and Roy, Victoria's reggae rock band.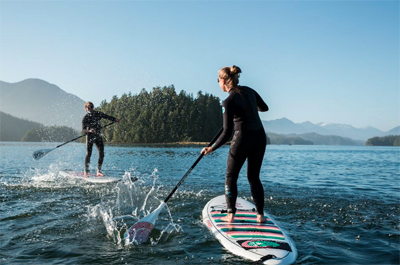 Have fun in the water after the festival.
Photo by Tourism Tofino
One music reviewer summed up the music of Jon and Roy like this: "(It) wants you to get outside, enjoy the sunshine and leave all your material possessions behind." Tweet This!
Need we say more?
Ocean play is front and centre
While you're visiting Ucluelet you'll get a front stage to a mariner's life, while hiking the Wild Pacific Trail. The rugged coastal landscape and crashing surf are a bonus. Afterwards head to the Ucluelet Aquarium to learn about the sea creatures in your midst. If you have kids in tow, there are plenty of interactive exhibits to keep them entertained.
Back in Tofino, more ocean play awaits. Well known as one of the best places in North America to learn to surf, head to any number of surf schools for a lesson from the pros. One place to check out is The Surf Club at Long Beach Lodge, located on Cox Bay Beach.

Cross into the wild on a coastal road trip that includes Tofino and other destinations. Credit: Destination BC/Hubart Kang
If you're still up for more ocean time, head to Tofino Sea Kayaking for an afternoon and then be sure to make time for stand-up paddleboarding into the sunset.
You'll be ready to hit the pillow to the sound of the ocean.  
More info
Getting there: Fly then drive. Direct flights to Comox Valley or Victoria via Edmonton and Calgary on Air Canada, WestJet are available daily.
Thinking of checking out the Otalith Festival this summer? Share this page with your friends.