The annual Queen of the Peak surf competition is a friendly competition drawing short and longboard surfers mainly from western Canada. But anyone can compete.
Photos courtesy of Kyler Vos
Annual women's surf contest in Tofino proves 'cold waves are cool'
PAULA WORTHINGTON
TOFINO, B.C. - Alright, ladies. Let's admit it. We've all had that daydream.
You know, the one where you're Kate Bosworth in the movie Blue Crush, and you're on your surfboard, living the dream and flawlessly carving a perfect turquoise barrel with the ultimate beach soundtrack playing in your ear?
While many of us will never come close to living that fantasy (at least not with such finesse), you might find the closest Canadian version to that movie scene in Tofino this October. 
Granted, the athletes will be covered head to toe in 5 mm wetsuits and the Pacific Ocean might be a touch cooler (OK, plan on 13C). But if Tofino has taught me anything over my past three surfing visits, it's that "Cold waves are cool."
Surely, the competitors in the annual Queen of the Peak women's surf championships know that, too. They'll compete Oct. 5 and 6 in Tofino at the legendary Cox Bay and Chesterman Beach.
The event will host female short and longboard surfers from across Vancouver Island, the Canadian west coast, and even semi-pro athletes from as far south as California. 
"There's a big female surfing population in Tofino, and before this competition was started, local ladies really didn't have an opportunity to progress or compete," said event organizer Krissy Montgomery. "We wanted to create an event that would encourage great camaraderie in a spirit of friendly competition."
Montgomery is the owner of Tofino's Surf Sister, a famed surfing school that provides lessons to surfers (male and female) and wanna-be surfers of all ages and abilities.
Co-organizer Mike Jacobsen, who is also the general manager of Tofino's Shelter Restaurant, agrees. "It's for everybody. We have an open invite to anyone who wants to compete. We involve the local community and visitors as spectators, and we are fortunate to have local pro male surfers participate as judges in the event."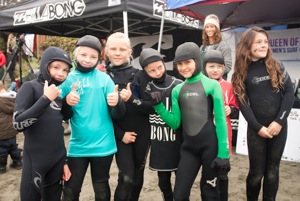 Girls up to 16 years old can compete in the Princess of the Peak.
The competition is a huge draw for spectators from near and far, many of whom come to Tofino this time of year to catch the start of the famed "storm watching season" while seeing some top female surfers in action. 
"It's a beautiful sport for people to watch," says Montgomery. "Even if you're not a surfer you can appreciate the skill these ladies have and the power of the ocean."
The competition features some unique amenities for competitors, including complimentary child care on the beach, dog-sitting services, and an on-site spa tent to soothe aching muscles between heats.
Contest categories include longboard and shortboard divisons, as well as a "Princess of the Peak" category for girls up to 16 years old, which has seen competitors as young as six years old take part. Also included this year is an "over 40 years" category, proving surfing really is for everyone. 
Last year the competition's various events also raised $2,000 for Keep A Breast Canada, which supports breast cancer prevention, detection and support. 
If you're planning a visit, there's plenty to see and do in Tofino any time of year, and locals Montgomery and Jacobsen also recommend that visitors to Tofino should plan some time to take in some other treasures outside of Queen of the Peak. That includes a trip to Hot Springs Cove, fishing trips, and enjoying local cuisine such as Dungeness crab, spot prawns, halibut, and scallops.
Heck, you can even take a surf lesson or two from the pros at Surf Sister, and live out those Blue Crush dreams of your own (wetsuit included). 
Details
For more information about Queen of the Peak, visit www.queenofthepeak.com. 
The Surf contest takes place from 8 a.m. to 4 p.m. on Oct. 5 and Oct. 6 at Cox Bay or Chesterman Beach. Specific locations depend on daily weather and wave conditions, and is just one part of the celebrations.
The full event spans five days and includes a spa evening at the Ancient Cedars Spa at the Wickaninnish Inn, a Billabong movie night at Shelter Restaurant, and an awards ceremony dinner, also being held at Shelter.
Tofino is located on the west side of Vancouver Island. Direct air access to Long Beach Airport via Orca Airways, Island Express Air or KD Air (summer) or via float plane on Tofino Air. Major airlines fly to Comox and Nanaimo (Tofino is a three hour drive from these centres). 
Where to stay: For a rustic, authentic rainforest stay, check out the Sauna House  a cozy cabin located just steps from Chesterman Beach. Views are spectacular from the comfortable Middle Beach Lodge, which features a stunning great room with lots of cozy places to read and enjoy the views. The exquisite Wickaninnish Inn offers a dramatic vantage point on North Chesterman Beach and world-class service and amenities.
Check out the Cultural Heritage Festival happening in Tofino Sept. 21 to 30, 2013.