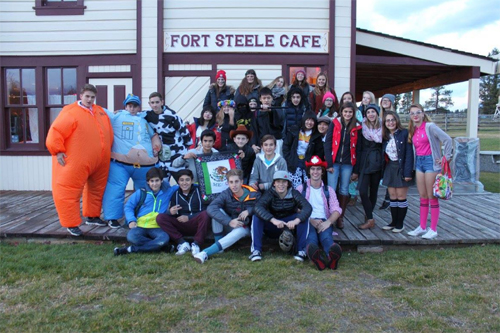 Get your best costume out for the 30th Annual Spooktacular.
All photos by the Rocky Mountian International Student Program
DAVE QUINN
FORT STEELE - Throughout the year, Fort Steele is known for bringing history to life. But on Halloween this real-life ghost town pulls out all the stops to bring back the dead for one of the largest Halloween celebrations around.
 #DareToExplore. Share this page on Twitter.
Not bad for a town that died about the time Cranbrook began to grow.
What started as a small Hallow's Eve bash way back in 1986 for a mere 200 ghosts, goblins, witches, and Ewoks has blossomed into the largest Halloween event in the Kootenays.
It's known as the 30th Annual Fort Steele Halloween Spooktacular and it could possibly be the largest Halloween party in a Ghost Town in Western Canada. Almost 4,000 costumed revellers of all ages descend on the Fort to partake in a Spooktacular scare for all ages on Oct. 29 from 4 to 9 p.m.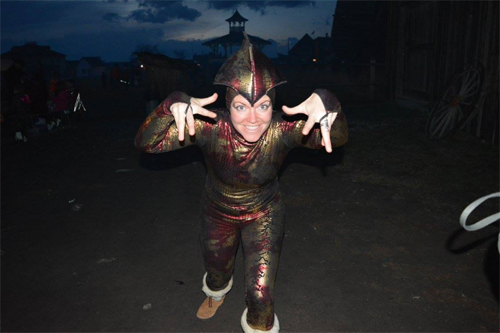 You never know who you'll run into at Spooktacular.
Maybe you and your zombie kids are just into some really old-school trick-or-treating at all the 1800s-era family houses, sponsored by local Cranbrook-area businesses.
Authentic haunted houses
Or, maybe your family of gremlins wants to get the pants scared off you in two (with a third rumoured to be in the works for this year) haunted houses. While the house of friendly ghosts is geared for really young spooks, the second home harbours a truly frightening haunting, so be warned! This is one activity where the Fort's amazing staff actually get a break. You don't have to work too hard to showcase a haunted house when the century-old building was haunted to begin with!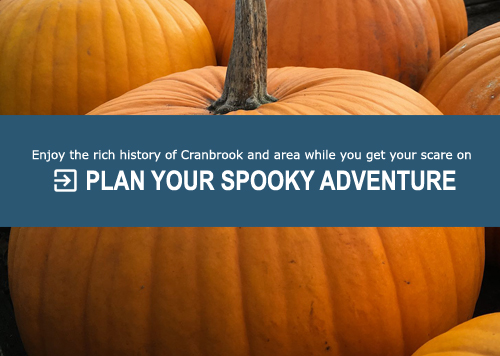 If the haunted houses don't leave you feeling hollow, you're sure to feel the visitation of some of the Fort's resident, real ghosts, including the spirits of an 11-year-old girl who perished of appendicitis over a century ago, and the ghosts of two women murdered in the Windsor Hotel.
Fireworks and bonfires keep everyone warm
New this year is a kids hay maze, sure to keep all the Elsas and Nemos entertained for hours. All the usual turn-of-the-century lifestyle fun and lifestock will still be on hand. And if you just need a break, you can tune in, or tune out to Just Music's spooky DJ in the main gazebo.
Also be sure to check the Fort's reknowned Wildhorse Theatre for a short and scary original live-action performance.
Late October brings the first really cold nights, and the event's largest sponsor, Tim Hortons is always on hand selling hot drinks, donating all proceeds back to the Fort. Over the years they have sold over $17,000 worth of Halloween hot chocolate and coffee.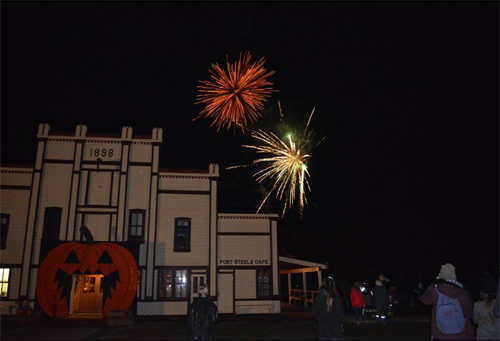 If that is not enough to keep you warm as you wait for the grand finale 9 p.m. fireworks show, bonfires will be burning all across the Fort, as they may well have been on cold autumn nights of the late 1800s.
If You Go
On Saturday, Oct. 29, join thousands of zombies, ninjas, princesses, and pirates that descend on Fort Steele for the 30th Annual Halloween Spooktacular.

Tickets go on sale Oct. 1, and are available in advance at select locations in Cranbrook, Kimberley, Fernie, Invermere, and at the Fort for $15/10 for members, or $17/15 for members at the gate.

Gates creak open at 4 p.m. to allow for the staff and over 100 community volunteers to prepare.

This is one day to leave pets at home. While the Fort is pet-friendly for the rest of the year, the dogs just can't seem to handle all that ectoplasm in one place.
Setting up base camp in Cranbrook allows you to experience the Kootenay Region like no other, find out what's in store by visiting Fort Steele's official website.
Make sure to like Fort Steele Hertitage Town on Facebook and stay up to date with upcoming events, programs and more.
Check out our Festival Overview of Spooktacular and start planning your costume!
Ready to enjoy Halloween with the whole family? Share this page on Facebook