All photos by Paula Worthington
PAULA WORTHINGTON
As I peered over the railing to the pit in front of me, I could see one truck still churning through the mud, slowly making progress, the impossibly sticky muck sucking the tires further down with each inch.
Help your friends #DareToExplore. Share this page on Twitter.
In the other lane, a truck was stopped, stuck, having succumbed to the sludgy, soggy brown mud that had completely buried its wheels. Over to the side, a tractor was approaching, ready to tie a rope and pull the truck out to higher, drier ground.
Behind me, there were jeers of Chevy versus Ford, the latter still inching along, while the former surrendered to a second-place finish. Someone was speculating that a Dodge would have most certainly already made it through the pit, if it could have had the chance. Immediately, the refrain of a Corb Lund song went through my head, and put a smile on my face:
"The Chev got stuck and the Ford got stuck
Got the Chev unstuck when the Dodge showed up
But the Dodge got stuck in the tractor rut
Which eventually pulled out the Ford"
"We'd pull one truck out and get another stuck in
And motors would roar and tires would spin
We'd sink right down, down to the diff, and we'd all take turns and do it again
Till no one could move, we'd call one more friend,
Come on out here, we need you…bring your truck"
I was in Provost, getting my first glimpse into the world of mud bogging, the event part of the summer-long Canadian Mud Racers' Organization (CMRO) circuit, which includes events throughout western Canada. One of the not-to-miss events includes the upcoming Plamondon Mud Bogs, taking place in the hamlet of Plamondon, in Lac La Biche County, from Aug. 19-21, 2016.
Busting some myths about mud bogging
Many would argue that mud bogging put Plamondon on the map, and the self-described "mud-flinging, wheel-spinning, adrenaline-filled good time" focuses on being a family event, with three days of attractions including a midway, food vendors, children's' festival, activities, and of course, mud races.
Competitor Greg Wickenheiser, whom I met in Provost, is a regular on the circuit and will be competing in Plamondon this year. Like many, Wickenheiser was bitten by the mud bogging bug years ago.
"It's such a great adrenaline rush, where you get to put three to four thousand horsepower to work," he says. "Whether you're a competitor or a fan, there's lots to see and do, and the community is incredible to be part of."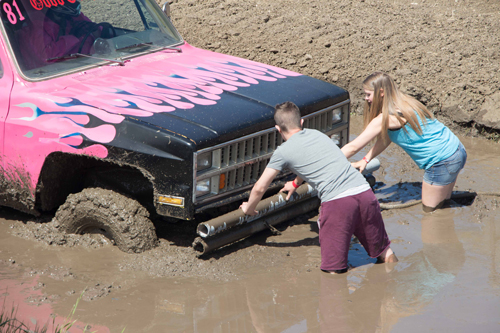 Another competitor, Robert Van Kesteren, was one of the first to welcome me at Provost, proudly sharing his 20 years of racing experience with me.
"I encourage anyone who is going to one of these festivals for the first time to meet some of the drivers and the community we have created - some might even let you ride in the passenger seat on their run!"
Both competitors helped me bust through a few myths about mud bogging, for those (like me) who were uninitiated.
Myth 1: First, both talked about how safe mud bogging is. There are a number of safety measures in place for the safety of participants and spectators.
Myth 2: Second, its competitive nature. While trucks fiercely go head to head on the track, behind the scenes there's a strong sense of camaraderie, sharing parts, helping each other out, and operating like a big family.
Myth 3: Although it feels like a rodeo, it's definitely not a rodeo. According to Van Kesteren, "Most people either do rodeo or mud bogging, but not both." Not to mention those trucks kick up a lot more dirt than a bull.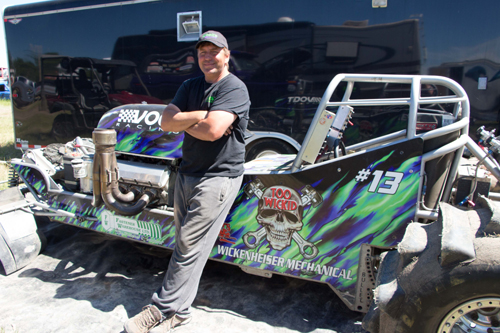 Funds raised by the Plamondon Mud Bogs go back into local projects, helping to improve the community with each person who attends.
But back to Lund's song - who is tops, Dodge, Ford or Chevy? While that debate will likely carry on until the end of time, head to Plamondon to see who reigns as king of the mud in 2016.
If You Go
Admission is $15/day, seniors and youth $10/day. A family pass is $40/day (up to five immediate family members) and children under 5 are free. Camping is available on a first-come, first-served basis.
For more on the the region of Lac La Biche, which is here your find the mud bogs, check out their tourism website.
Like getting muddy? Share this page with your friends!