More events added to the party for 2015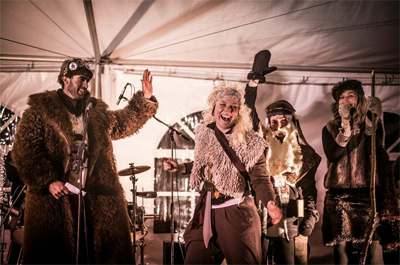 Griz Days 2015 will be the best yet
Photo provided by the Fernie Chamber of Commerce
PAULA WORTHINGTON
FERNIE, B.C. - OK, folks. So you think a winter season of epic snow is out of your hands?
Think again.
In Fernie, B.C., locals and visitors alike take it in their own hands by hailing "Griz" every winter. Griz Days Winter Festival 2015 will take place Feb. 27 to March 1, and is hands down, one of the best weekends of the season in Fernie.
Griz Days celebrates the legendary man they call Griz. According to Fernie Mayor Mary Giuliano, the legend goes way back. "Griz was born in a bear cave, and the people of the area could hear a commotion, but they were too afraid to go up and see. Finally, a young boy emerged, wearing a bear coat and hat — he had won over a bear. The legend began. He grew to be a man with shoulders six feet wide and carried a musket. He would shoot the musket into the sky, bringing the world-class snow to the mountains for people to enjoy."
Every year, visitors and locals alike praise Griz with a huge winter festival, and this year, the town is even more excited to coax Griz to come out and play. Fernie has added to its large roster of activities in town and on the mountain.
Griz Days adds more music and new events
Sage McBride, Fernie local and member of local "Stoke-folk" music group Shred Kelly, says Fernie is always abuzz during Griz Days. "It's impossible to be bored during Griz Days. There's live music outdoors downtown in the evening during the weekend, and so many awesome events around town and up at the ski hill."
New for this year is a fundraising family dance happening on Friday, Feb. 27, featuring the The Ken McCoy Band, a Calgary Stampede and Ranchman's Calgary headline act. Complete with dinner, dancing and great country music, the fundraiser will help to purchase an ultrasound machine for the Elk Valley Hospital. Tickets are $50 per person.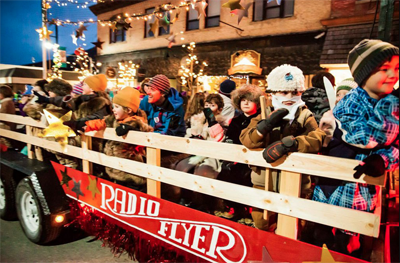 The annual parade is a must see
Photo provided by the Fernie Chamber of Commerce
An annual highlight of the festival is the always energetic Griz Days Parade, taking place on Saturday, Feb. 28, starting at 6:30 p.m. on Main Street (2 Avenue) in downtown Fernie. The parade rounds out a day of big activities, including a hockey tournament, street party, cooking contests, and of course the famed annual "Extreme Griz" competition.
Callng all mountain men
The Extreme Griz competition is Mayor Giuliano's favourite. It features burly mountain men competing in skills such as "sawing, shooting, ax throws, and outdoor manly things that most people don't do anymore," she says.
The original Extreme Griz is Fernie local Willard Ripley, who recently served as a councilor in Fernie, and was first named a Griz champ back in the 1970s. Other activities that round out the competition include pancake eating, a GT snow racer race, Jeep pulling, fire starting, leg wrestling and a hockey shoot out.
Can all that racket rouse the Griz and bring some much need snow this year? That's what Mayor Giuliano hopes. "This year, Griz seems to be spending his time at the top of the peaks, and not coming down low enough with his musket. We're going to coax him down with Griz Days, and we'd love to get some more help."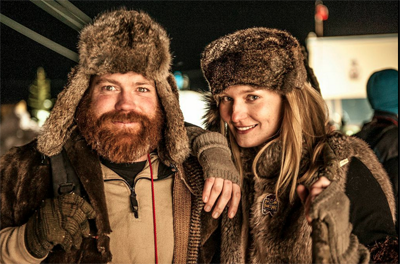 Are you a mountain man? Griz Days wants you!
Photo provided by the Fernie Chamber of Commerce
Beyond all the fanfare with Griz Days, a visit to the legendary town is good for the soul. "Fernie is a great place to come to get rested, get involved in the community, and leave feeling really good," says Giuliano. "People love to spend time here because of our beautiful mountain scenery, great downtown and the community."
The spirit of Griz is evident in Fernie, says McBride. "The spirit of the Griz is the reason why so many people come to Fernie. It's the power of snow and the love of winter. For many, Fernie has given so many of us the best years of our lives."
In the name of Griz, plan to take your tracks to Fernie Feb. 27 to March 1. After all, we all know that Griz loves a good party (and you do, too).
Take a look at all the great events during Griz Days and get yourself excited! If you liked this story share it with all your winter loving friends.