The Little Britches weekend will be amazing
Photos provided by High River Tourism
JODY ROBBINS
HIGH RIVER, AB - Sitting beneath the towering cottonwood trees that flank Calgary's original Macleod Trail, it doesn't take long to get roped in by the spirit of western hospitality.
Friendly folks lining the street are all smiles and make room for families with little cowpokes in tow. Farmers from out of town greet each other with a slap on the back and thermoses of hot coffee are shared over blankets lining the sidewalk. I'm back in my hometown of High River eager for the Little Britches weekend to kick off.
This isn't my first rodeo. I make a beeline for this community every May long weekend (this year May 16-18) for one of the best small-town celebrations in the province. I come here to step back in time, to be reminded of Alberta's simple pleasures and the powerful connection of community. This year the action kicks off on Saturday, allowing visitors an entire weekend to soak up this authentic small town.
Parade action
The big draw is the parade on Saturday at 10 a.m., but I know we'll need to snag a curbside spot by at least 9:30. The best spot is in front of leafy George Lane Park. Waiting for the marching bands and floats, my daughter darts in and out of the park, meeting other kids and playing with all the dogs that come with their owners.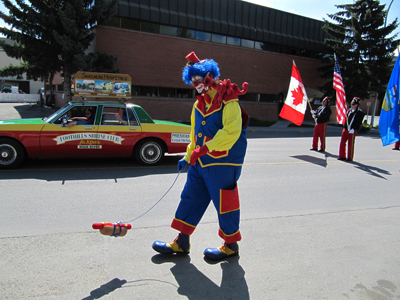 This year's parade is longer than ever.
This year's theme, "A New Beginning" is apt, considering what the town has gone through since the Alberta flood in 2013. What makes Little Britches so special is the community support and participation. More than 30 floats have registered this year, making it longer than ever before. "This parade is important for High River. It signifies the start of the summer season and so many of our people step up," says parade marshall Hank Leeferink.
Ideal for young families, the Little Britches parade is one of the biggest in southern Alberta, with numerous marching bands such as the Calgary Stampede Showband entertaining the crowd with their miniature cars and antics. The best part? Kids are encouraged to sit curbside, enjoying all that candy that gets tossed.
Like me, former resident, Shauna Way also makes the trip back to High River with her young family for the weekend extravaganza. "My kids love the candy, the mascots and all the friendly people. I love the history. My family has sat on the same corner for over 50 years. It's a memory-making weekend," she says. 
Post parade festivities
After the action, we'll duck back into George Lane Park to nosh on beef on a bun served up by the Lion's Club. We're far from being alone. This is where the bands regroup and duke it out in a friendly Battle of the Bands competition, while wee ones hit the playground.
I'll mosey on down to the United Church parking lot for a Cultural Taste of High River. Organized by Foothills Community Immigrant Services, food from 10 different countries will be prepared by new residents. "Food is universal. Bringing together these different tastes draws newcomers into the local community, while offering delicious bites to parade-goers," says community coordinator, Myrna Scovoranski.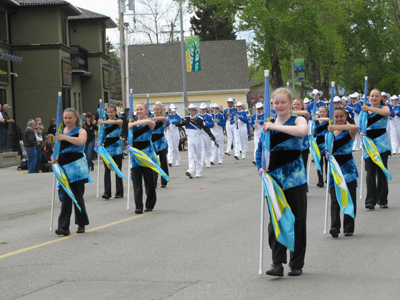 Everyone loves a parade
Expect to chow down on Mexican mole, iced Thai coffee, Haitian beans and rice, plus shrimp and chicken pancit, a noodle dish from Philippines.
River of Music Festival
Bet you didn't know High River was such a musical community? George Canyon and Ian Tyson live outside of town and even Mayor Craig Snodgrass is in a band. On Saturday afternoon, the inaugural River of Music Festival brings a festive spirit to the community, while showcasing local talent. More than 35 live entertainers perform throughout downtown. "You'll find a lot of diversity at this festival, from singer songwriters to brass bands to jammers and bag pipes," says Donna Callison. 
Off to the rodeo

For a taste of the Little Britches Weekend check out this video of sheep riding.
Video by @mhirschfield2
Capping off the weekend is the 57th annual Little Britches Rodeo on May 18. This ain't your typical rodeo. Participants are under 15 years old. If you've never had the pleasure of seeing a four-year old mutton busting, or a wild pony race, consider this your cue to boot scoot your way to the High River where western traditions are kept alive and well.
Want more info on the weekend? Head to the official site for a full schedule of events.
Share this with your friends if you think they'll want to experience an authentic western weekend.