Get out to Fernie and enjoy everything bikes!
Photo provided by the Fernie 3
LEIGH McADAM
FERNIE - Mark your calendars. On the weekend of June 27 -29, Fernie, B.C. plays host to an action-packed weekend of mountain bike races including the Fernie 3, a three-day stage event and the second annual Fernie Roll & Sole Trail Fest.
Between the two events you can race, mountain bike just for the fun of it, join a guided mountain hike, participate in any number of crazy races, and take your children to the ninth annual kid's bike rally. Though Fernie is best known as an award winning ski town, its genuine hospitality and local commitment to these events will undoubtedly demonstrate it's a four season town.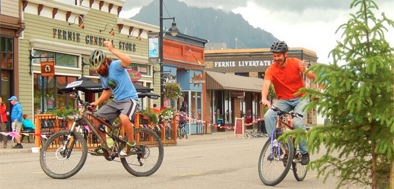 Celebrate all things biking the mountain town of Fernie, where there will be a wide range of fun events for every ability. It all happens during the Fernie Roll and Sole Festival.
For me, a trip to the mountains and a chance to reconnect with nature feeds my soul. I don't care if I'm biking or hiking, or watching the participants have fun. I'm just happy to experience the world-class mountain scenery Fernie provides.
Fernie Roll and Sole Trail Fest
"It's a weekend of crazy, fun events," says Terry Nelson, chair of the Fernie Roll and Sole Trail Fest Committee.
Start the day with either a 2 ½-hour guided hike or a mountain bike ride. Arrive back in Fernie in time for a catered gourmet lunch, followed by five hours of spirited and crazy races. And by crazy I mean events like a slow ride — where the winner of the $100 cash prize is the one that moves the slowest on a bike. Start practicing your wheelies and learn how to leave a skid mark — because these are also cash prize-worthy events.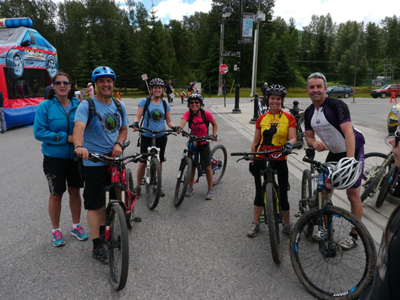 The Roll and Sole Fest is guarenteed fun for the biking fan.
Photo provided by Fernie's Trail Alliance
Not interested in playing team bike polo or dragging a log behind your bike? That's OK. Spectators are needed to cheer on the contestants. And hikers, you can try an obstacle course while kids will want to enter the skills contest, with loads of donated prizes up for grabs.  Terry says, "All kids get a free ice cream cone from the Happy Cow Gourmet Ice Cream Shop." (I wonder if being a "kid at heart" counts?)
How do you participate in these events? Sign up on Friday night, Saturday or Sunday morning in the registration tent downtown. There are a limited number of tickets so sign up early to avoid disappointment. Adult ticket prices are $25/day; kids are $10/day. Afternoon events are $5/adult/event and $2/kid/event. Advanced registration is available, check out Tourism Fernie's website for additional details.
The Fernie 3 All Mountain Stage Race
"If you're a strong, intermediate mountain biker or better," says Dan Savage, event director of Fernie 3, "You'll love the three day stage race."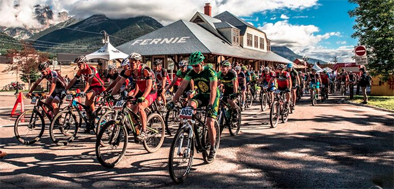 Fernie's epic Fernie 3 Mountain Bike Race is back for another year. Enjoy it all during this three-day race in the wonderful mountain town of Fernie. 
Beginning on Saturday and ending on a Monday, each day offers approximately 35 kilometres of single track with loads of epic downhill in a beautiful mountain environment. (You can still sign up for $399 per person.) Appealing largely to the 30 to 49 year old male from Alberta, there is also a popular one-day solo race ($199 pp) as well as age appropriate races for the U13 and U16 ($50 pp) crowd on Saturday. Younger kids can take part in a free bike rally on Sunday morning — and as Dan Savage says, "It's about educating parents and helping the kids have fun."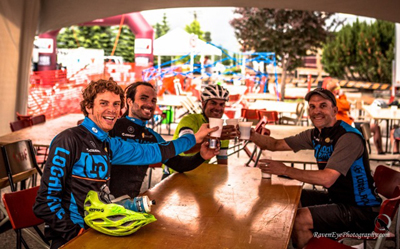 Cheers to a fantastic Fernie 3.
Photo provided the Fernie 3
Before and after the races and events enjoy some Fernie hospitality. The delightful downtown is home to plenty of eclectic eateries that are perfect for fueling up. Charming yet down-to-earth restaurants to try include, Mugshots, Big Bang Bagels, Freshies and Loaf.
With two well organized community events, there's something for everyone. What a great way to kick summer into high gear.
Get more information about the Fernie 3 weekend.
Spread some inspiration with friends and family. Please share this story and have them to join you on the trails!  June 25-27 or not, roll into Fernie anytime this summer for some sole and roll tim of your own.