The annual Pacific Rim Whale Festival marks the opening of the region's renowned whale-watching season and the annual migration of more than 20,000 Pacific grey whales on their 13,000-kilometre journey from the waters of Mexico's Baja Peninsula to the Bering Sea. Known for the abundance of grey, humpback and orca sightings year-round, the west coast of Vancouver Island is one of the world's premier whale-watching destinations with more than a dozen operators based in Tofino and Ucluelet, conducting boat tours from March through October.
More than 30 years ago a group of concerned citizens wanted to create awareness about the island's pristine eco-system, the then-endangered grey whale population, and coastal traditions. They formed what is known now as the Pacific Rim Whale Festival Society. Thankfully, the grey whales' numbers have increased; and the celebration continues. Festivities each spring are centred around the migration of these great ocean giants — from Mexico to the Arctic. You can see whales gliding past from the beautiful shores of Vancouver Island.
Help your friends #DareToExplore. Share this page on Twitter.
The 9-day festival consists of many educational and cultural presentations as well as performances, kids activities, family-oriented events and events for both locals and visitors alike. 
Purchase your festival button, which has been drawn by local children. Buttons are $5 each and grant access to the by-donation events.
Grab a preview of the Pacific Rim Whale Festival here.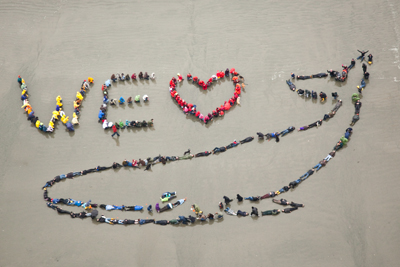 Tofino shows its love for whales.
Photo by Jeremy Koreski
Featured Events with more to follow on the official website
Saturday March 21, 2020
Marine Mammal Research Days
Saturday March 21, 2020 : 9:30 am - 12:00 pm
Subtidal Adventures (Ucluelet)
Join Subtidal Adventures and a local guest marine researcher for a fun-filled zodiac boat whale watching trip in Barkley Sound. We will introduce you to local marine mammals and involve you in identifying individuals and their habits.
2.5 – 3 hour tour length.
Advanced booking required for this very popular event. Adult $109.00, Children (4-12) $89.00. 25% of the proceeds will go back to support the Whale Festival. 
For on-line reservations go directly to the Subtidal Adventures web site (www.subtidaladventures.com) or for more information, email reserve@subtidaladventures.com or phone 1-877-444-1134.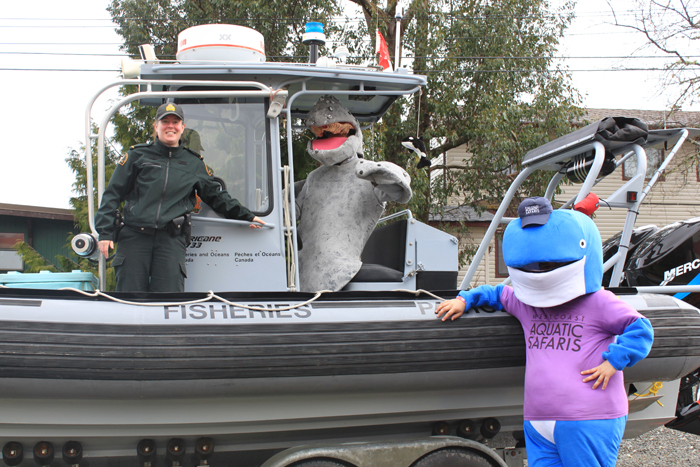 Wednesday March 25, 2020
Paddleboarding & Marine Ecology
Wednesday March 25, 2020 : 9:00 am - 11:00 am
Swell Paddle & Surf - Mackenzie Beach Resort
Learn to paddleboard and explore marine ecology around Tofino. Join Emre for a paddleboard exploration around the calm paddling areas at low tide at Mackenzie Beach. No previous experience needed; we will show you the basics. A great way to get on a paddleboard for the first time and, with a wetsuit, get a real close-up hands-on experience of the marine ecology around Tofino's intertidal zone.
Fun for all ages 10 and up. Cost is $50/person plus tax.
Swell | Call or text 250 266 3787 | info@tofinopaddle.com |
book online @ tofinopaddle.com
Friday March 27, 2020
Sunrise Kayaking @ Low Tide
Friday March 27, 2020 : 8:00 am - 11:00 am
Paddle West Kayaking (Tofino)
Explore the rocky shorelines and mudflats at sunrise near Tofino while you paddle with a professionally trained sea kayak guide.
Morning low tides are the best time to experience the marine life exposed along the shoreline and it is our favourite time to paddle! If we are VERY lucky we will see a whale, but more likely a whelk!
This is an event for everyone 5 and up. Rates are $65 per person.
booking office: (250)725-3232 / ryan@paddlewestkayaking.com
Saturday March 28, 2020

Coastal Explorer Hike
Saturday March 28, 2020 : 9:00 am - 11:30 am
Wya Point
Challenge yourself to a wilderness hike. Trek beneath the canopy of an old growth forest, walk on sandy beaches, explore tidal pools, and discover mysterious rock formations. The coastal rainforest and windswept beaches hold countless stories of ancient trading routes for local First Nations. Eagles, seals, sea lions, mink, sea otters, and even whales are in abundance at varying times of the year.
Tides, weather, and the preferences of our guests dictate the scope and design of these tours. Expert guides will escort and interpret the natural and cultural history of the area . Our guests carry only a bottle of water, a light but delicious snack, and any needed personal gear. Safety equipment will be provided and carried by your guide.
$30 per person - 25% of the proceeds will go to support the Pacific Rim Whale Festival
(NOTE: children 13 years and older can attend assuming they can handle the terrain and exertion of the hike.)
Ticket Price
Ticket sales will continue until the day of the event, or until sold out for the following events:
March 28 - Barnacle Ballads @ Black Rock Oceanfront Resort
tickets are $25 in advance or $30 at the door

tickets are available through Octopus Events

limit of 75 tickets so get yours early and save!
Be sure to go to the official Pacific Rim Whale Festival website for more information.
Learn more about Tofino and Ucluelet by visiting their official websites.
Share this festival with your pals so they too can get excited about west coast culture.