Come and celebrate 25 years of the Honda Celebration of Light in Vancouver this summer. With amazing fireworks displays, incredible music, food and more. The Honda Celebration of Light competition begins promptly over English Bay at 10:00pm each night, rain or shine. Be treated to fireworks displays by teams from the Netherlands, Australia, and USA. Also enjoy "SHOREFEST" a music festival which will be taking place during the Celebration of Light.
Read as Mike Morrison explains why the Honda Celebration of Light is the place to be this summer.
Fireworks displays
Three teams representing their country perform a 25-minute fireworks display set to accompanying music. This year features teams from the Netherlands, Australia, and USA. Each display will be judged on a number of things including: 
Sizing of the Show
Overall Design and Artistry
Synchronization
Originality of Effects
Quality of Soundtrack
Quality of Fireworks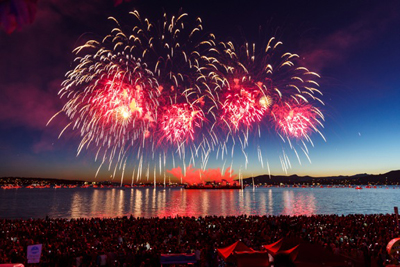 SHOREFEST
An amazing part of the celebration of light includes SHOREFEST. Which showcases some of Canada's top musical acts in one of Vancouver's most picturesque settings on the shores of English Bay. Come down early to the Sunset Beach stage for live music all afternoon. Then move on over to English Bay to catch our feature performers on the stage in The Keg Lounge. This stage plays to the beach – to you the fans – with rock and roll starting at 7:30pm.
Artists have included Platinum Blonde, Vancouver's very own Bend Sinister and more!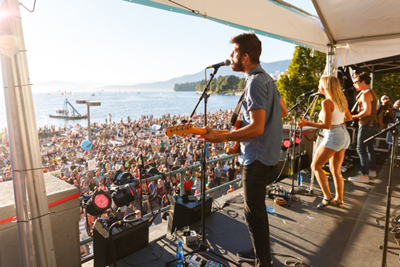 Tickets
The fireworks display on all three nights are free, however, experience the Honda Celebration of Light in a whole new way by saving your spot in the Keg Lounge. The Keg Lounge a popular choice for VIP viewing, selling out every year. Featuring your favourite hors d'oeuvres by The Keg Steakhouse + Bar, live music from some of Canada's best talent and a social lounge atmosphere, The Keg Lounge is the perfect way to treat yourself and your friends to the quintessential Vancouver experience.

Vancouver is a city rich in arts and culture. Enjoy nature, night life, art, music and more!
Photo: Jay Hailey
Tickets to the lounge are $169 and include:
Live music + fireworks soundtrack simulcast
2 Complimentary cocktails
Complimentary Hors D'oeuvres and Grill Station
VIP washroom facilities
Additional Information
Getting there: Direct flights to Vancouver via Edmonton and Calgary on Air Canada, WestJet are available daily.
Thinking of checking out the fireworks displays this summer? Share this page with your friends.