Every once and a while we get to spend time with SuperHeroes, you know those people who leave you standing taller and eyes more wide open.  Fernie, British Columbia has a superhero and his name is Griz.  Fernie, named by Rolling Stone Magazine as one of North America's top party towns, hosts a festival every year in honour of their superhero.  That festival is called Griz Days, and the event is legendary.
Who exactly is the Griz? Check out this short video and discover him for yourself. 
It's stellar to get out into the mountains anytime of year, especially mountains that attached to one of Canada's coolest towns! Whether you ski or not during Griz Days you and your crew will not go bored, check out all of these events and let us know which ones you'll attend! 
Highlights past years are listed below. 2019 schedule TBC.
Griz School Tour
March 2, 2017
10:00am – 2:00pm Local schools
Winter Light – Solo Exhibition
March 2, 2017
6:00pm Eye of the Needle Gallery
Exhibit Opening | I Am Fernie
March 2, 2017
7:00pm – 9:00pm Fernie Museum
Griz Wiz Scavenger Hunt
March 3, 2017
10:00am – 5:30pm Fernie Museum
Ski with Griz
March 3, 2017
11:00am – 3:00pm Fernie Alpine Resort
Griz Pub Crawl
March 3, 2017
3:00 – 9:00pm Ski hill to town
Family Fun – Station Square
March 3, 2017
4:00 to evening Station Square
The Circus Acts Insomniacs
March 3, 2017
5:00-8:00 Station Sqaure
Griz Stomp III
March 3, 2017
6:30pm – late Community Center
Pre-Novice Hockey Tourney
March 4, 2017
8:00am – 7:00pm Fernie Memorial Arena
Pancake Breakfast
March 4, 2017
8:00 – 10:00am Community Center
Craft Fair
March 4, 2017
9:00am – 2:00pm Community Centre
Bridge Tournament
March 4, 2017
10:00am start Senior Center
Garage Sale
March 4, 2017
10:00am – 2:00pm Family Centre
2nd Avenue FunFest and 150 Play List
March 4, 2017
10:00am – 4:00pm Station Square/2nd Ave
Griz Wiz Scavenger Hunt
March 4, 2017
10:00am – 5:30pm Fernie Museum
Extreme Griz Pancake Eating Comp
March 4, 2017
11:00am – 12:00pm Station Square
Street Hockey Tourney
March 4, 2017
11:00am – 7:00pm Park Place Lodge
Bacon Spectacular
March 4, 2017
11:00am start 2nd Ave
Baby Griz Crawl
March 4, 2017
12:00pm start Community Centre
Extreme Griz Comp
March 4, 2017
12:30 – 3:30pm Ski Hill
Griz Swim Olympics
March 4, 2017
1:00 – 4:00pm Aquatic Centre
Junior Griz Competition
March 4, 2017
2:00 – 4:00 2nd Ave
Rocky Mountain Lumberjack show
March 4, 2017
4:00pm Station Square
Extreme Griz Crowning
March 4, 2017
4:30pm Station Square
Station Square Festivities
March 4, 2017
4:00 – 11:00pm Station Square
Griz Parade
March 4, 2017
5:30pm start 2nd Avenue
Rocky Mountain Lumberjack Show
March 4, 2017
7:00 Station Square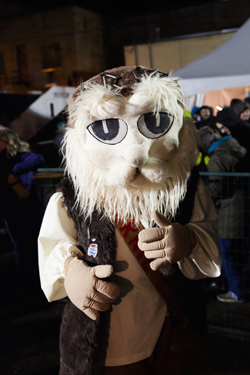 Fireworks
March 4, 2017
7:45 Station Square
Yukon Blonde – Free Concert
March 4, 2017
8:00pm Station Square
Station Square Dance Party
March 4, 2017
9:00 – end Station Square
Pre-Novice Hockey Tourney
March 5, 2017
8:00am – 7:00pm Fernie Memorial Arena
Griz Wiz Scavenger Hunt
March 5, 2017
10:00am – 5:30pm Fernie Museum all ages activity 
Family Dance
March 5, 2017
2:30pm – 4:30pm Community Centre
ParticipACTION 150 Play List
March 5, 2017
10:00am – 4:00pm Station Square – 2nd Ave
Dummy Downhill
March 5, 2017
1:00 pm – finish Fernie Alpine Resort