3 weekends of fun!
See the schedule below for the dates and times of the various events. You don't want to miss out on the Sno-Pitch Tournament - and no, they won't be throwing snowballs. The ball season isn't over just because there's snow on the ground. There are also other snow filled events and artistic sessions.
Schedule of Events 
Winter Fair Wine & Cheese at Vermilion Elks Hall
5 p.m. - 10 p.m. Admission at the door $15 
Sponsored by Advantage Insurance & Advisors
Local producers, merchants & caterers include: The Cheesiry – artisanal sheep-milk cheeses from Kitscoty; Seratonin Chocolates – handmade chocolates & truffles; Ribstone Creek Brewery – craft beer producer from Edgerton; Eastalta Coop – showcasing gourmet cheeses from their deli; Vermilion Packers – showcasing house-made sausage & jerkies; Lasting Impressions Catering – unique seasonal appetizers featuring local ingredients; Apple Drugs – featuring a selection of gourmet gluten-free snacks; The Old Liquor Store – featuring new wine selections; Prairie Place Liquor – featuring beer selections and Decorations from Fantasy Flowers.
Gingerbread CN Station Class at Vermilion Public Library
1 p.m. – 5 p.m.
With instructor Kathy Bowtell of Twin K Sugar Art, participants recreate the façade of Vermilion's CN Station in gingerbread. Additional local buildings will be designed in future years (Museum, Alumni Hall, Imperial Bldg.) 
Snow-Sculpting with Jake Miller at Town Hall Park
10 a.m. - 4 p.m.; registration $50+GST
This isn't just a snowman-making session. Experienced snow-carver Jake Miller comes from Saskatoon to lead participants as they  carve 4'x4'x8' blocks of snow.
Christmas Around the World at Vermilion Regional Centre
3 p.m. – 6 p.m. 
Special holiday dishes from six different countries will be prepared followed by an enjoyable meal. Instructor: Charlene Young of Lasting Impressions Catering. 
Vermilion Sno-Pitch Tournament at Pioneer Park Ball Diamonds
Organizer: Dwayne Sheppard
Bright orange softballs are used to help with location in the snow.
Weather forecast: Who cares...its "Game on!"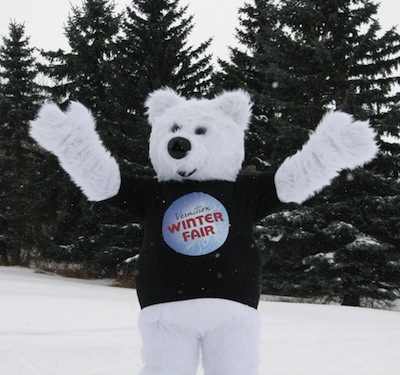 Ice Sculpting Class, location TBA
9 a.m. - 4 p.m.
Chainsaw ice carving with instructors Ritchie Velthius and Stuart Ballah. Participants are guided through a variety of tools, techniques and hints for designing and creating ice sculptures. 
Ridge Riders Snowmobile Expo at Heritage Pavilion, Vermilion Fairgrounds
An incredible selection of new and 1960s vintage snowmobiles from across Alberta and Saskatchewan will be arranged for admiration. There will also be safety demos and displays. Organized by the Vermilion Ridge Riders, the local snowmobile club that builds and maintains a growing system of trails around the Vermilion region.
Create a Seasonal Outdoor Planter at Lakeland Country Florists, Lakeland Mall
10 a.m. – noon.
These always popular classes led by Rita Elliot will have you creating a seasonal planter for your house, one that looks as though it's right out of a home décor magazine.  
Moulded Ice Sculptures
Students from Lakeland College, Vermilion Elementary School and St. Jerome's School will all create ice sculptures. Over two dozen designs in a variety of sizes and colours. New additions will be placed around Vermilion each week. 
Visit the official event page for more on the Good Life Institute and Vermilion.
Unless otherwise specified, all information about the Vermilion Winter Fair has been provided by festival organizers.